The Consular Fellows Program (CFP) is a competitive opportunity for individuals interested in a United States Foreign Service career. As a Consular Fellow, you will have the chance to work in various U.S. embassies and consulates worldwide.
This post is a beginner's guide to the Consular Fellows Program. It is intended to provide a comprehensive overview of the program and what to expect, from the application and testing process to the day-to-day duties of a Consular Fellow.
We will also review essential tips for preparing for the CFPT.
What is the Consular Fellows Program
The Consular Fellows Program is a limited non-career appointment of up to five years for people who have language proficiency in Mandarin, Spanish, Arabic, or Portuguese.
The program allows participants to gain valuable work experience in the consular affairs field, including visa processing, passport issuance, and assistance to American citizens abroad. The program is designed to attract a diverse group of individuals and provide them with experience in the Foreign Service.
Eligibility for the Consular Fellows Program
To be eligible for the program, candidates must:
Be a U.S. citizen.
Be at least 20 years old at the time of application; at least 21 years old at the time of appointment.
Speak and read an eligible foreign language: Arabic, Mandarin Chinese, Portuguese, or Spanish.
Be able to obtain and maintain a Top Secret security clearance.
How to Apply
To apply to the CFP, candidates must complete an application on the Pearson VUE portal and submit their personal narratives.
Consular Fellowship Program application
The application requests details on your education, professional experience, personal information, and, most importantly, your language designation (Arabic, Mandarin Chinese, Portuguese, or Spanish). For professional experience, candidates should note that you will only include the last ten years of professional experience and only have 500 characters available to describe each experience.
Consular Fellowship Program personal narratives and statement of interest

After submitting your application, candidates must submit six personal narratives and a statement of interest. The six personal narrative prompts and the statement of interest prompt follow. Except for the statement of interest, you are limited to 1,300 characters for each narrative response.
Candidates who have or are considering becoming a Foreign Service Officer (FSO) will notice that the prompts are similar to the FSO application.
Substantive knowledge
The Foreign Service seeks a diverse workforce with broad job skills and a depth of experience to represent the United States overseas. Briefly describe why you would like to work with the State Department and what you bring to the Consular Fellows Program.
Intellectual skills
In the Foreign Service, you will confront challenging situations that require identifying the problem, collecting relevant information, and formulating or advancing innovative solutions to resolve the problem. Describe a time when you responded innovatively to unanticipated circumstances to solve a problem.
Interpersonal skills
In the Foreign Service, you will be called upon to interact effectively and diplomatically with people in difficult situations. Describe how you have used your interpersonal skills in a specific situation to resolve a problem or achieve a goal.
Communication skills
Communication skills are critical to successful diplomacy. Describe a situation in which you used your communication skills (either in English or another language) to further an aim or achieve a goal.
Management skills
Foreign Service Officers are often required to manage projects, demonstrating the ability to plan and organize, set priorities, employ a systematic approach, and allocate time and resources efficiently. Describe a project you managed or helped to manage and how you sought to achieve the project's goals.
Leadership skills
Leadership can be defined as motivating others, encouraging creative solutions, establishing positive team relationships, or significantly influencing the direction of the work. Describe how you have demonstrated leadership, either on one particular occasion or over time.
Statement of interest
Required narrative Statement of Interest equivalent to two-to-three paragraphs typed and no more than 1800 characters, which discusses your motivation for joining the Foreign Service; comments about your work experience; and experience living or working in a multicultural environment, overseas, or in the U.S.
Consular Fellowship Program Test (CFPT)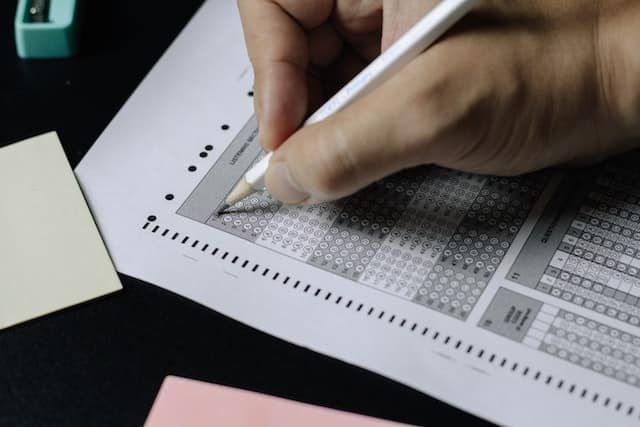 Once you have applied and selected your test date through Pearson, you will take the Consular Fellowship Program Test (CFPT). The CFPT includes four sections: comprehending regulations, English Expression, Job Knowledge, and Situational Judgment. The last three sections are also part of the Foreign Service Officer Test (FSOT) (for a deeper dive into these sections, visit this page). These are all multiple-choice questions. 
Briefly, the purpose of each section follows:
Comprehending regulations
Candidates must select the correct answer by interpreting the presented regulations.
English Expression
This knowledge area encompasses English expression and language usage skills required for preparing or editing written reports, including correct grammar and good writing at the sentence and paragraph level. Learn more on how to prepare.
Job Knowledge
Questions will cover a broad range of topics including, but not limited to, the structure and workings of the U.S. Government, U.S. and world history, U.S. culture, psychology, technology, management theory, finance and economics, and world affairs. Learn more on how to prepare.
Situational Judgement
This section will present scenarios (i.e., descriptions of situations) that a candidate might encounter on the job. Learn more on how to prepare.
Consular Fellows Program Language Test
Candidates who pass the CFPT and the Qualifying Evaluation Panel – a review of your entire candidate package – are invited to take a language screening test administered by the Foreign Service Institute's Division of Language Testing and Assessment. Candidates will conduct the test virtually. Those who pass the test receive an invitation to the Oral Assessment.
Passing speaking and reading scores for the tested languages follow:
Arabic, 2/1
Chinese-Mandarin, 2/1
Portuguese, 2/2
Spanish, 2/2
Consular Fellows Oral Assessment
Candidates who pass all of the above will participate in a virtual oral assessment, in which you are evaluated against the FSS 12 dimensions.
There are two parts to the OA, a written exercise and a structured interview.
During the writing exercise, candidates will receive a hypothetical problem related to a workplace setting. They must write a two-page memo outlining a solution within 45 minutes.
During the structured interview, two examiners, both members of the Foreign Service, will cover the candidate's motivation for joining the Foreign Service and relevant background experiences for the position. The interviewers will ask questions specific to the consular field and provide hypothetical workplace scenarios for the candidate to resolve.
Candidates who pass the above will move through the clearance process, including medical and security checks.
Important considerations
Consular fellows go to specific posts with high visa workloads.
These appointments do not guarantee future employment with the Department of State or the U.S. government. Still, successful completion of 48 months of consecutive service may qualify Fellows for non-competitive eligibility for civil service positions. Entering the Foreign Service as an entry-level FSO still requires fulfilling the consular service requirement.
Portuguese and Chinese language program applicants are hired for service in Brazil and China.
Consular Fellows' service time and benefits count toward federal employment and retirement eligibility.
How to study for the Consular Fellowship Program Test
Because of their similar structure, candidates studying for the Consular Fellowship Program Test (CFPT) can benefit from Foreign Service Officer Test (FSOT) preparation resources.
One such resource is FSO Compass, which provides comprehensive study materials and practice tests for the Consular Fellowship Program and the Foreign Service Officer Test (FSOT). FSO Compass includes practice tests and study guides on three out of the four sections of the CFPT: job knowledge, English expression, and situational judgment. By using Compass, candidates can familiarize themselves with the questions and scenarios they will encounter in the exam, assess their strengths and weaknesses, and identify areas where they need to improve.
In addition to its test preparation resources, FSO Compass also supports your personal narrative (PN) writing. With a course on how to write concise narratives and a PN Challenge – writing six narratives within a timeframe, all while receiving peer feedback. This platform is a great source to help improve your writing.
Join the pFS Newsletter!
Receive 6 lessons to help you prep, study, and practice for the FSOT.
Plus! By signing-up you are also joining hundreds of other FSO applicants in a communal pursuit to join the Foreign Service.